This blog is a continuation of 14 Ways to Better Health With Essential Oils  – #1 Your Why.
We're going to get started with one of the most popular Young Living essential oils, Lemon Essential Oil.
The Benefits of Lemon includes cleansing. Lemon consists of 68 percent d-limonene, and may support a healthy circulatory system. It has cleansing and purifying properties.
Lemon is also known for its ability to clean toxins from the body. Drink in water everyday to reap the benefits
Here's some other uses you might not have known about.
10 Uses for Lemon Essential Oil
Cleansing Skin Naturally

When you incorporate lemon essential oil into cleansers and scrubs, your skin is cleansed naturally.

Wake Up Your Brain

This is a great oil to diffuse as a pick me up in the morning. It also supports a healthy body when you add a drop to your water each morning.


Soften Skin Callouses

Cool right?!

Stain Remover

Lemon Essential Oil naturally remove stains from fabric – even old grease stains!

Support Healthy Lymphatic System

Apply in the lymph areas to support them!

Freshen Air Naturally

Put 6 drops of Lemon essential oil in a spray bottle, along with 6 drops Purification essential oil and enough water to dilute, and you'll have an all-natural air freshener that can be used in any room.

1-Ingredient Hand Freshener

If you're in a rush and need to freshen your hands, just rub a drop of Lemon essential oil over your hands.

Clean Glass Dishes Naturally

Lemon essential oil is essential for getting the "stink" (in my case from fermenting garlic!) out of glass dishes.

Add to Your Tea

Put a drop of Lemon in a cup of hot water with honey – YUMMY!

Get Rid of Sticky Residue

Drop gum onto the carpet? Did your child just color all over the wall? Lemon essential oil will take all of that sticky gunk off.
  Lemon Peas Recipe
• 2 tablespoon extra-virgin olive oil
• 2 cups frozen peas, thawed and drained
• 2-3 drops Lemon essential oil
• Salt to taste Heat olive oil in a large frying pan over medium heat. When hot, add the peas. Cook until softened, 3-5 minutes. Remove from heat and add salt and Lemon essential oil to the pan. Adjust seasonings to taste and serve warm.
And here's another great recipe to beat the winter blahs. I would also recommend it for whenever you feel a cold coming on and want to ward off that foggy feeling.
Ginger Honey Lemon Tonic Recipe • 1 cup water • 1-inch piece ginger root, peeled and roughly chopped • 2 drops Lemon essential oil • 1 teaspoon honey, or to taste Heat the water and ginger root in a small pot over medium heat. Strain out the ginger pieces and pour liquid into a mug. Stir in Lemon essential oil and honey. Serves 1
If you really like the clean scent of Lemon, Young Living has this fantastic soap with Lemon and Sandalwood essential oils. Imagine how clean and awake you'll feel after using it in the morning.
Lemon-Sandalwood Cleansing Soap™
combines exquisite fragrance with all-natural ingredients to cleanse, soothe, and soften skin. Young Living's bar soaps are created through a proprietary process that minimizes the presence of skin-drying alkali salts, which are a major cause of dryness and irritation.
Ingredients
Saponified Elaeis Guineensis (Palm) Oil, Saponified Cocos Nucifera (Coconut) Oil, Saponified Olea Europaea (Olive) Fruit Oil, Vegetable Gylcerin, Citrus Limon† (Lemon) Peel Oil, Lycium Barbarum Seed Oil, Avena Dativa‡ (Oat) Kernel Meal, Simmondsia Chinensis (Jojoba) Seed Oil, Santalum Album† (Sandalwood) Oil, Aloe Barbadensis Leaf Juice, and Rosmarinus Officinalis (Rosemary) Leaf Extract.Young Living Therapeutic Grade™ essential oil.
‡ Organically grown in accordance with the California Organic Foods Act of 1990.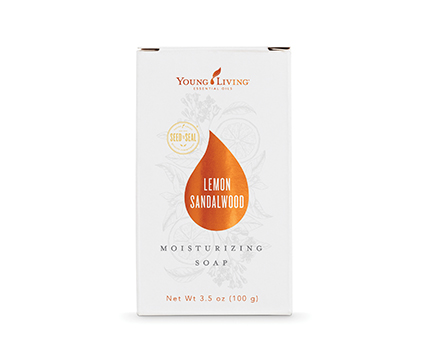 I hope you learned something new from these amazing uses for Lemon essential oil. You will agree that its one of our favorites!
You can order any of the above here: http://yldist.com/a2z4health/