Young Living's Thieves® essential oil blend was inspired by the legend of four 15th-century French thieves who formulated a special aromatic blend composed of clove, rosemary, and other botanicals to use while robbing dead and dying victims of the plague.
Combining Lemon, Clove, Cinnamon Bark, Eucalyptus Radiata, and Rosemary essential oils, our one-of-a-kind Thieves blend has more uses than we can count! We know that each person has their own favorite ways to use Thieves, and we want to share ours, too.
Thieves has also been university tested for its cleansing abilities.  It is highly effective in supporting the immune system and good health
What is Thieves Household Cleaner?
It's hard to believe, but this is truly an all-in-one natural cleaner that's non-toxic, yet super effective.
It's made with 100% plant- and mineral-based ingredients, includingm
Vegetable-based surfactants like alkyl polyglucoside that are compliant with Green Seal and EPA Design for Environment (DfE) standards
Biodegradable cutting agents like sodium methyl 2-sulfolaurate and disodium 2-sulfolaurate from renewable sources (both ingredients rated 0 on a 10 point scale on the Environmental Working Group's health hazard score – which is the best score possible)
Therapeutic-grade Thieves and Lemon essential oils (the highest quality and purity essential oils) for natural cleaning
Why It's Economical
Save time and money by buying one cleaning product. You won't have to make trips to multiple stores or order from multiple online sources. Thieves Household Cleaner is an all-in-one cleaning product that will replace most of your household cleaners.
Thieves
Rub 1 drop onto the bottoms of your feet before heading out for the day.
Diffuse to bring a spicy, welcoming fragrance to any room of your house.
Add a drop or two of Thieves to mop water to add extra cleaning power and a fresh scent.
Make a deep-cleaning scrub by combining baking soda, Thieves Household Cleaner, and 2 drops of Thieves to form a thick paste.
Add a drop or two of Thieves to Thieves Laundry Soap for an extra boost of freshness for clean clothes that smell great!
After washing your clothes with Thieves Laundry Soap, add 4–5 drops of Thieves onto a washcloth and tumble with the laundry in the dryer for extra Thieves aroma.
Make your own deodorant? Give your DIY deodorant an aromatic boost with a few drops of Thieves.
Diffuse Thieves with a few drops of Orange, Tangerine, or Nutmeg essential oil for a delicious spicy-citrus aroma.
Add a few drops of Thieves to a basin or bowl of hot water, tent a towel over your head and the basin, and breathe deeply for a rejuvenating home spa experience."When traveling, I'll spray a few puffs of Thieves Spray in front of the A/C unit, which allows Thieves to go through the filter and out. I also pull back the bed covers and spray the sheets. I also spray Thieves inside the pillow cases on both sides. In the public toilets, I'll spray a few puffs over the toilet before sitting. I never travel without it." —Pam J., Senior Star"I am a flight attendant and use Thieves for travel. I moisten a cotton ball and stick it in the hotel vent. I spray down the room. I use it on the remote control. I clean the galley and serving trays with Thieves." —Dorothy R., Star
Refresh musty carpets by adding 5 drops of Thieves to a cup of baking soda; combine well and let sit overnight until the oil is absorbed. Sprinkle over carpets and vacuum thoroughly.
Use to remove sticky labels on glasses. Remove as much of the label as you can, add a drop of Thieves, let sit for several minutes, then rub clean.
Make a deodorizing room and linen spray by combining 4 drops of Thieves with water in a spray bottle and spraying around the house.
Clean your dishwasher by running an empty cycle with white vinegar and 2 drops of Thieves in the detergent dispenser.
Add a drop to the cardboard inside of your toilet paper rolls for a hint of Thieves freshness throughout the bathroom.
Use a drop of Thieves on a tissue to remove stains from whiteboards."I put 8–10 drops of Thieves in a dark-colored glass spray bottle and filled it with water. I've labeled the bottle and keep it handy by my front entrance. I use it to take away the spring scented shoes and boots in my front porch closet. Ahhh! The best air freshener ever! Works GREAT! Thank you Young Living!"—Robyn D., Distributorr
Put a drop on your hands, rub them together, then cup your hands loosely over your nose and mouth while inhaling.
Add a drop to a cotton ball and stash it in your air vents to circulate the spicy scent of Thieves throughout your home.
Scrub your sink with a few drops of Thieves after washing dishes to dispel any lingering odors.
Drop Thieves onto a cloth and keep it in your gym bag to keep it and its contents smelling fresher.
Combine 10 drops of Thieves with a cup of Epsom salt and add to a bath for a nice, relaxing soap
Thieves® Vitality™
Take internally by adding 2–4 drops of Thieves Vitality to a vegetarian gel capsule and swallowing with water.
Add a drop of Thieves Vitality and 2 drops of Orange Vitality to your daily glass ofNingXia Red®.
Give your herbal tea a kick of flavor by adding a drop of Thieves Vitality.
Combine Thieves Vitality with Cinnamon Bark Vitality and Clove Vitality in dessert recipes that welcome a little spice.
 Add a drop to your toothbrush before brushing for an even fresher experience!
---
How Did D. Gary Young Formulate Thieves?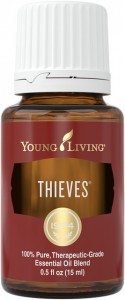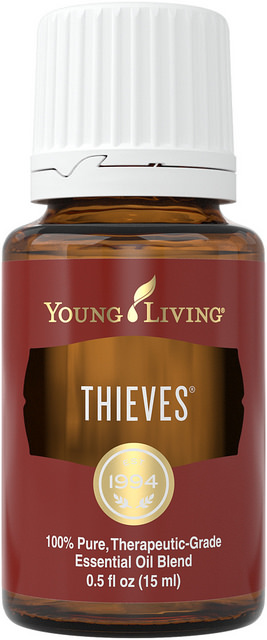 Young Living Founder and Chairman of the Board D. Gary Young recounts the history of his formulation of the essential oil blend Thieves, which was created as a result of his studying at the Warwick University in London, England, in 1991 and spending many hours at the London Library researching essential oils and their history.
"I must tell you that I have read 17 different versions of the Thieves story," says Gary, "Some that claim there were four thieves and others that claim there were 40! Many of these legends took place in the 15th century, but still others put the date in the 18thcentury. The formulas also varied from one story to the next, but through my research, I was led to four key botanicals that were mentioned again and again. Those ingredients were clove, cinnamon, rosemary, and lemon—four of the same ingredients that make up Young Living's Thieves essential oil blend today.
"The legends speculate that the thieves believed that wearing this special combination of botanicals provided protection while they were stealing. French authorities recognized that there was such value in this mixture that upon the thieves' capture, they received a more merciful punishment on condition that they divulge the ingredients in their secret formula to the king.
"To round out my modern Thieves formula and add another element of protection, I included eucalyptus radiata, which would have been rare to find in those days."
#Teachers Love discovering all the ways that #Thieves can be used in classrooms, especially as it helps to eliminates germs.
Cooking, cleaning, diffusing, in teas, toothpaste, vegetable wash, cough drops, a few drops in coffee, classrooms, kitchens, bathrooms, laundry, dryer sheets, the uses are endless.  Young Living Thieves is so popular, useful and effective that those of us that have fallen in love with all the products and all the uses want the whole world to experience all the uses in their lives.
Order your Thieves Premium Starter Kit today – A2z4Health.com