Give your skin some much-deserved love! Not your average moisturizer, this DIY lotion bar uses the warmth of your body to melt natural emollients and essential oils into the skin to smooth, moisturize and hydrate dry hands, heels, elbows, and more.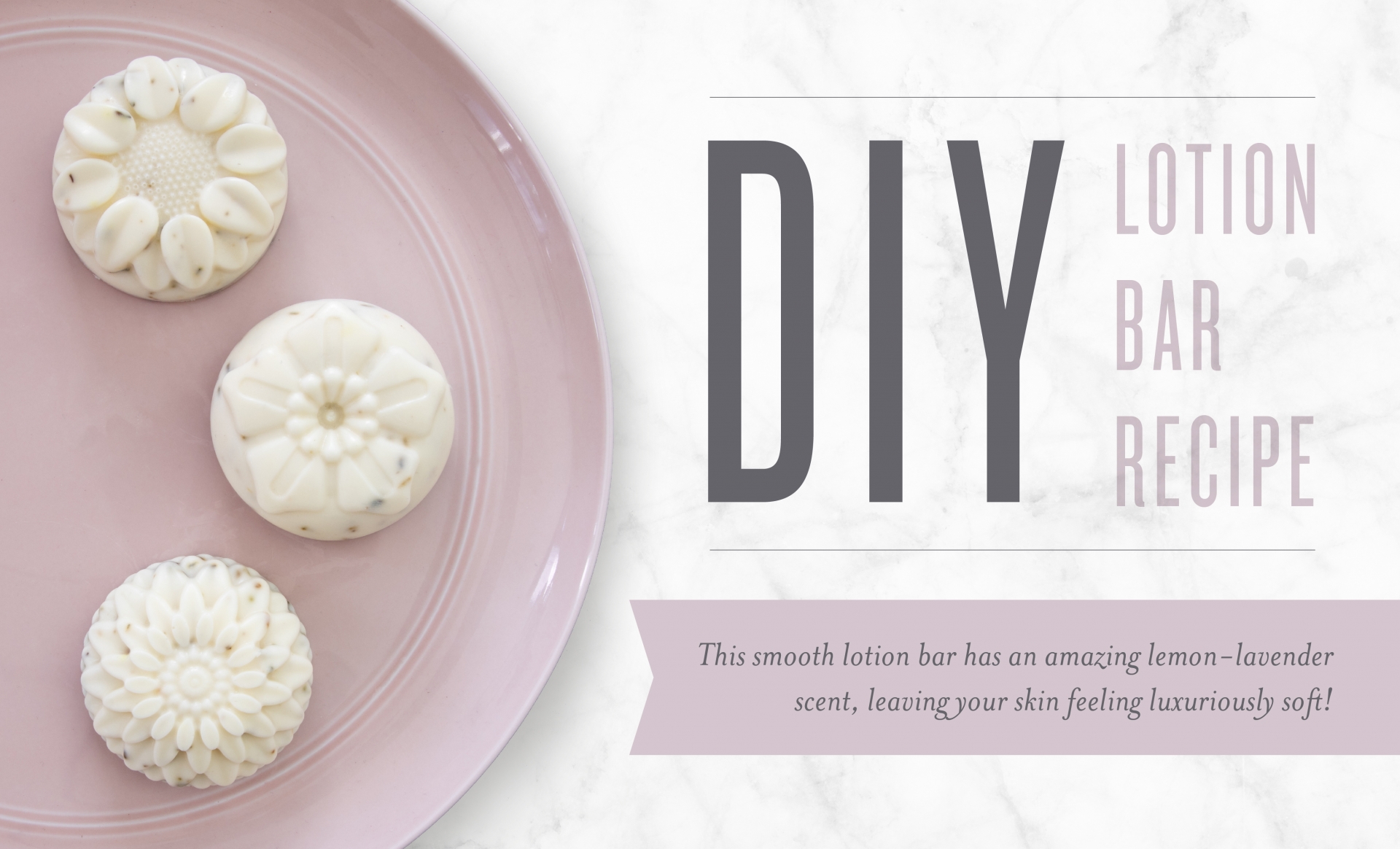 With a rich base of coconut oil, beeswax, and shea butter, this homemade lotion bar recipe has a smooth and rich consistency. We honestly can't get enough of the clean and fresh lavender-lemon combo we tried, but feel free to get inspired and create your own essential oil blend!
Bonus Tip: If you want to create an exfoliating texture, we recommend adding in some citrus zest, oatmeal, or dried lavender. Have fun experimenting!  You might like to watch the video showing how to make these lotion bars – easy peasy.  https://www.youtube.com/watch?v=RgrbsiYX0OM
Ingredients
½ cup extra-virgin coconut oil
½ cup beeswax
¼ cup shea butter
¼ cup cocoa butter
15–20 drops essential oil of your choice (we recommend 10 drops of Lavender essential oil and 10 drops of Lemon essential oil)
Optional: dried lavender and lemon zest for exfoliation
Materials
16-ounce measuring cup
Medium-sized saucepan
Silicone molds or muffin tin
Directions
Combine coconut oil, beeswax, shea butter, and cocoa butter in a 16-ounce glass measuring cup.
Place in a pot with water that rises to halfway up the measuring cup
Bring water to a boil, stirring frequently until ingredients are completely melted.
Remove measuring cup from the pot.
Add dried lavender and lemon zest, if desired.
Add essential oils and stir until completely combined.
Immediately pour into molds.
Let sit overnight.
Once cooled, remove the lotion from the molds.
Store in a cool, dry place.
I would love to know what combination of essential oils you are excited to try? Tell us in the comments below!
And of course if you are not a DIY type person Young Living has a fantastic line of quality nontoxic products to purchase!  You can check them all out on my website under the virtual catalog tab.  Contact me and lets get you started.  Our skin care products are of the highest quality ingredients with no toxic ingredients.  And if you're looking for skin care with Hyaluronic Acid (Sodium hyaluronate) many of Young Livings skin care has had this ingredient for years.  And why should you care about Hyaluronic Acid in your skin care regimen?  Just see what Dr. Oz had to say about this magic ingredient at http://blog.doctoroz.com/oz-experts/why-you-should-care-about-hyaluronic-acid.
Wondering which Young Living products contain this magic youth fountain gem?
ART Renewal Serum, ART Creme Masque,` ART Intensive Moisturizer, Boswellia Wrinkle Cream,
Sandalwood Moisture Cream, Satin Mint Facial Scrub, and Wolfberry Eye Cream.